Welcome to the BTWSC website.
(Click for BBM/Black Music Congress, 'Why?' track by Connected 2005 Project)
Jan. 5 2007
BTWSC is co-sponsoring the next Black Music Congress debate 'To what Extent Does Music Influence Behaviour?' on Saturday Jan. 13 at City University. Click for more information.
Whilst we await funding to run another free Event Planning course, subject to reasonable take up, we're running a paid-for course: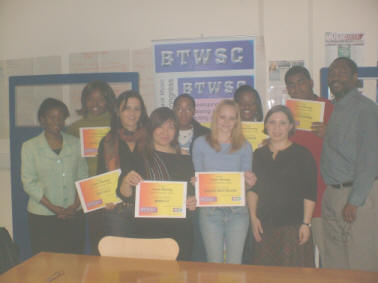 BTWSC Event Planning class with Liberal-Democrat shadow
secretary for education Sarah Teather MP. October 2006

ASET Level 2 accredited Event Planning course from Feb. 2007, subject to reasonable take up. The cost is బ which covers 30 hour lessons, plus registration and accreditation, subject to passing written assignment.
The good news is that there is some financial help. Haringey residents pay ໠and there is a bursary for Brent residents in Harlesden, Church End and Stonebridge - contact BTWSC co-ordinator Ms Serwah on info@btwsc.com or 020 8450 5987 for further information, if you live in these areas. Residents of other areas can contact their Jobcentre, Connexions, Advice Centre or Education advisers, as they may have information on local financial help.
The course, which provides skills for planning any form of event, from a wedding, networking evening, a concert, a fashion show, to a record or book launch, takes place at a
Brent
location:
10.30am-5.30pm
on
Friday Feb. 2, Monday 5, Friday 9, Monday 12, Friday 16, Monday 19
.
BRENT BLACK MUSIC HISTORY PROJECT DVD & booklet launch at Willesden Green Library, NW10 on Friday Jan. 26, 7-10pm. To book or for more info: info@btwsc.comor 020 8450 5987. sIt should be an exciting evening of networking, plus the screening and photographic exhibition of our take of black music history of the London borough of Brent.
Nov. 2006
We've been so busy with our offline activities, we have not had time to update our website with information about our course, and recent events. For now, you need to know about our networking evening on November 17, 7-9pm. If you want to attend or for more information: info@btwsc.com. If you want to submit information for the networking directory, please go to www.bbm-on.net/Networking1.asp.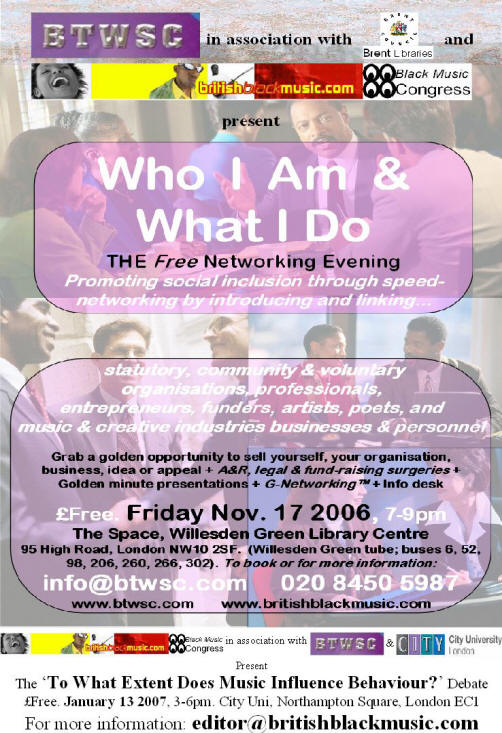 Aug. 2006:
NEW COURSE: New, free 6-week accredited Event Planning course particularly for those interested in the music and entertainment industries starts September 2006! Click for more info
July 2006:
BTWSC Wins Heritage Lottery funding for Brent Black Music History Project, which will work with youth volunteers between July - October 2006 to produce a booklet and DVD ... click logo below for more information or to read B&W Times article.

BTWSC will be celebrating Black History Month by organising in association with BritishBlackMusic.com/Black Music Congress the thought-provoking 'The N-Word & Insidious Racism' debate on Saturday October 14, 6-9pm in the Council Chamber, Harrow Civic Centre, Station Road, Harrow, Middlesex, HA1 2XF. The results of the We Should Not Use The N-Word BECAUSE... youth writing competition, which closes Sept. 30 2006, will be announced on the same day.

Pleae see flyer below for details of our two upcoming projects, to which you are invited - they're both free!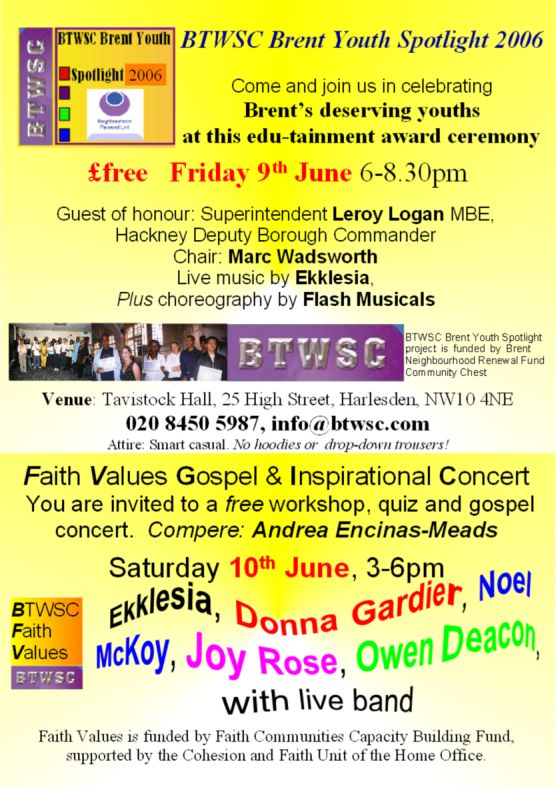 BTWSC's Faith Values project is currently conducting research on core values of faiths, particularly Christian and Hindu, and how these values help with coping with everyday life. The project will include running a workshop with Hindus and Christians in May 2006, and gospel concert and report publication in June 2006.

If you are interested, why not fill in the simple 1 page questionnaire by clicking on FAITH_VALUES_QUESTIONNAIRE.doc
The BTWSC Because... Youth Crime document at City Hall was a resounding success. April showers did not stop over 100 young people and adults attending the enlightening edu-tainment event! Click to see photos. Click for document information.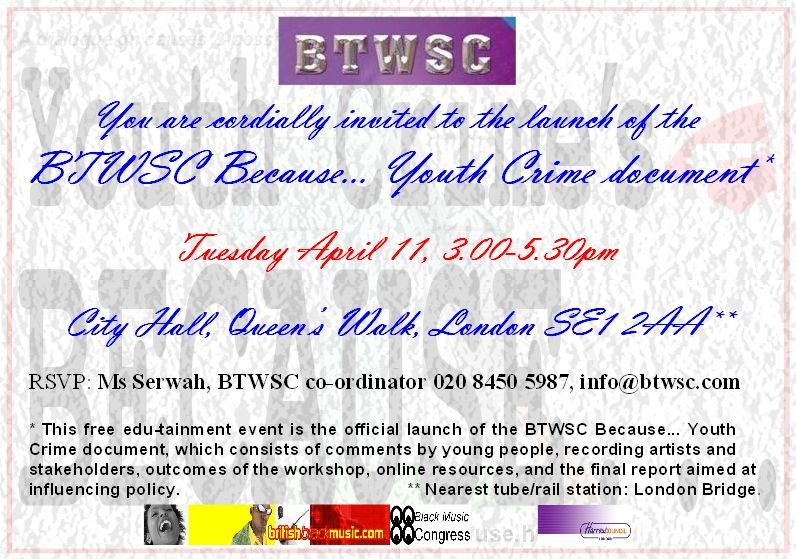 The course is full. You may contact us to be put on the waiting list for the next cycle, or a paid-for 2-day course aimed at everyone, including employed people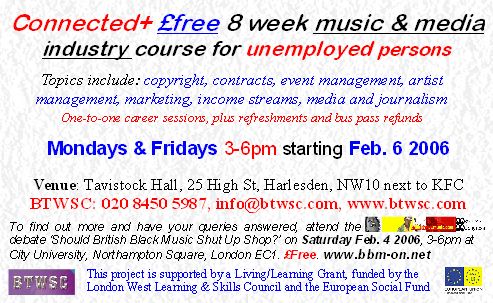 There are still places for those that either want market stalls, or to perform (material must be positive with no swearing)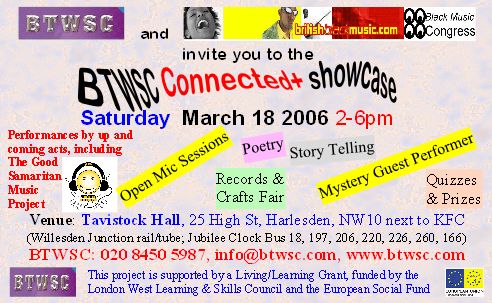 Families and schools are welcome to catch the author read the exciting story of Abraham Hannibal. ⥥. 2-3pm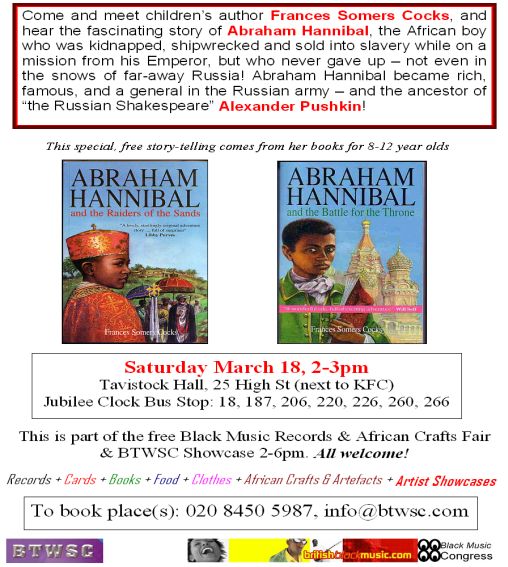 There are still places for those that either want market stalls, or to perform (material must be positive with no swearing)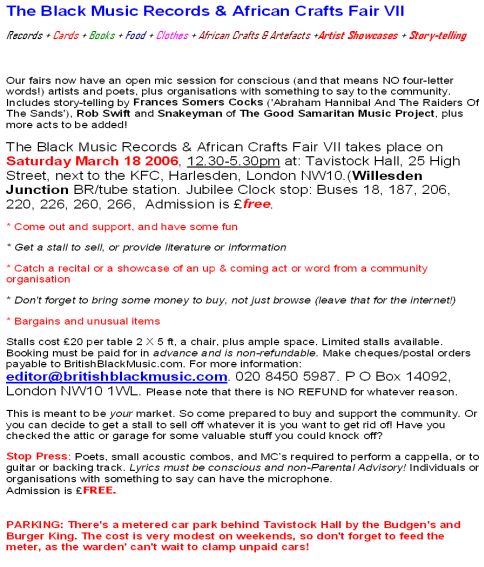 Click to read about our free Creative Fun Day for 13-18s, and adults on Saturday December 17, 3-6pm. Showcase and open mic session 5-6pm by participants & up and coming artists. Come watch, support, enjoy! It's inter-generational, so young ones and adults are welcome!!


Concerned about youth crime? What about gun crime? Did you support the cause by buying The Don't Trigger EP? Do you have views on the cause of youth crime? Do you have any ideas about possible solutions for dealing with youth crime? Are you involved an any anti-youth crime or anti-gun crime initiatives? If yes, why not find out more about our upcoming Youth Crime's BECAUSE... project in Nov-Dec. 2005 by clicking the logo below: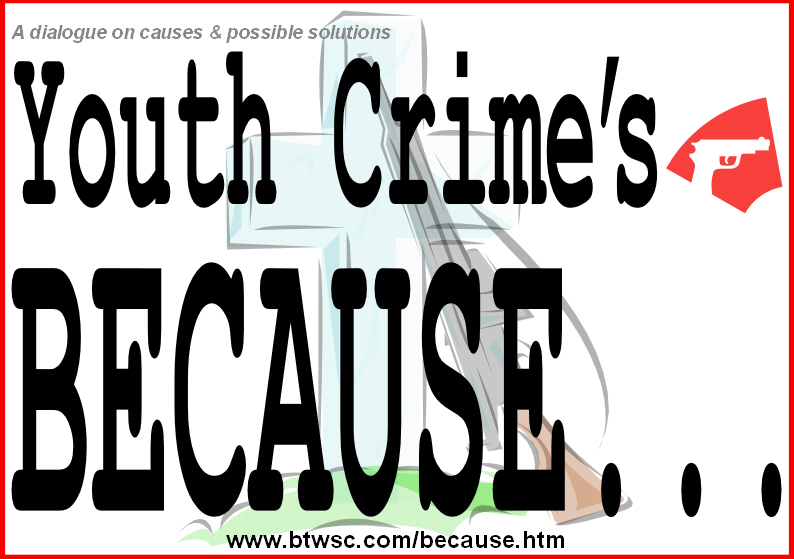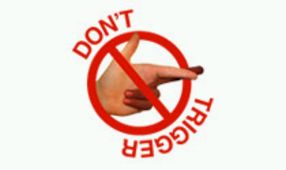 (Click for info on or to book 'Music Power!', our Black History Month 2005 programme)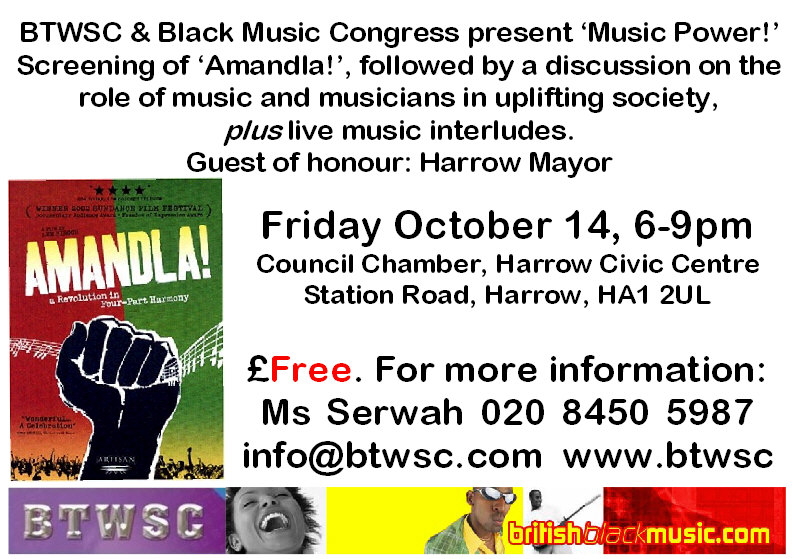 Please click on the navigation buttons on the left to find more about us and our activities.
Thank you for visiting our website.
Please click on Current Projects to read about our current and fairly recent activities.
BTWSC End Of Projects Edu-tainment Ceremony
Presentations, performances by participants and up & coming artists, quiz, fu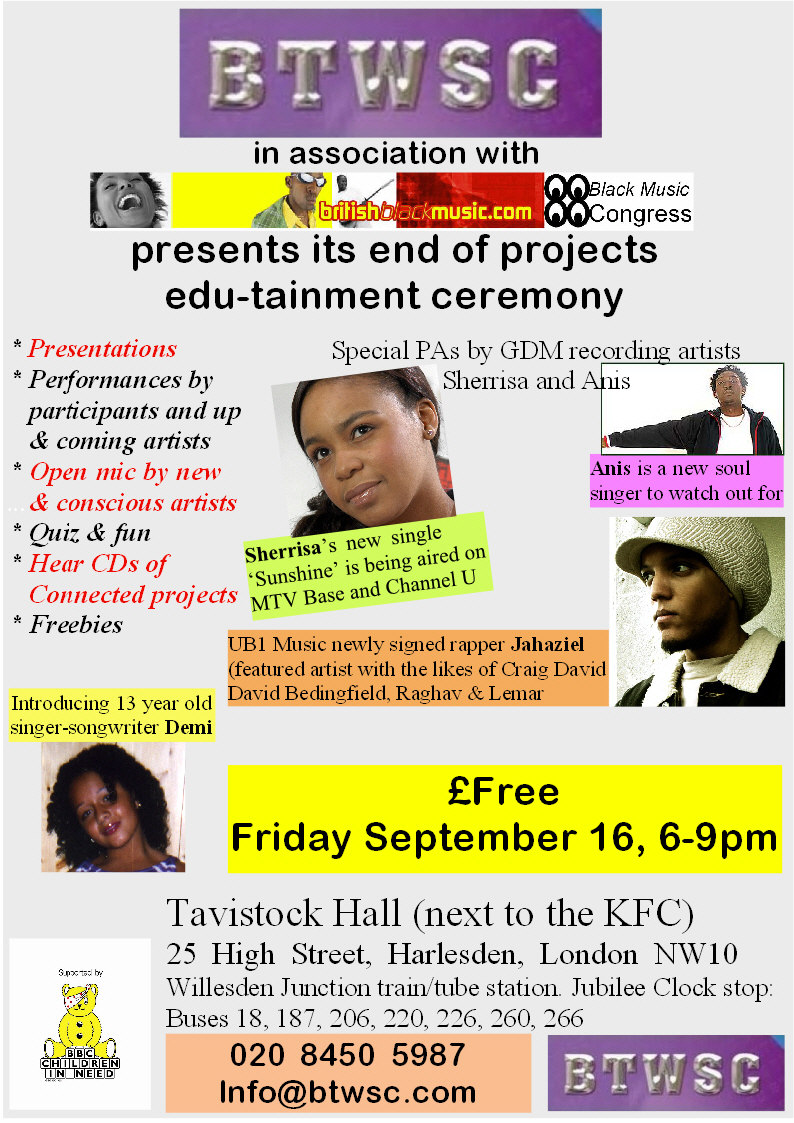 n, hear CDs made by participants, freebies, performances by R&B singers Sherrisa, Anis, rapper Jahaziel, and BTWSC discovery; 13 year old singer-songwriter Demi.
⥥. Friday Sept. 16, 6-9pm. Tavistock Hall (next to KFC), 25 High Street, Harlesden, NW10 (Willesden Junction train/tube station. Jubilee Clock stop: Buses 18, 187, 206, 220, 226, 260, 266)
For more information, or to book: Ms Serwah, BTWSC co-ordinator, 020 8450 5987/07956 215729, info@btwsc.com
BTWSC SUMMER CONNECTED PROJECT
BTWSC Summer Connected project is for Brent residents aged 13-17 who are interested in learning about the music industry, and would like to try their hand at writing and recording a song, making a short video film, or producing a newsletter. There will also be opportunities to attend quality concerts. It's free and light refreshments are provided.
Thursdays and Fridays, 3-7pm until early September 2005, starting Thursday July 28, 3pm. Venue is Hazel Road Community Centre (1st Floor), Hazel Road, Kensal Green, NW10 (1 minute from Kensal Green station; bus 18).
For more information, or to book: Ms Serwah, BTWSC co-ordinator, 020 8450 5987/07956 215729, info@btwsc.com.
STOP PRESS BYS 2005: Reggae star Don Ricardo, R&B/hip-hop group The Good Samaritan Music Project, Britain's answer to Angie Stone Shereen-Crystal (featuring Nu Starr and New York rapper Slic One), UseYourHead.Org.uk drama group, and a few up and coming acts will feature at the BTWSC Brent Youth Spotlight 2005 edutainment event on Friday July 15. Urban Concepts organiser Raymond Stevenson will introduce the Don't Trigger anti-gun violence 蹿㯮g and video, which will provide the background for a short discussion on gun crime by the young people and adults.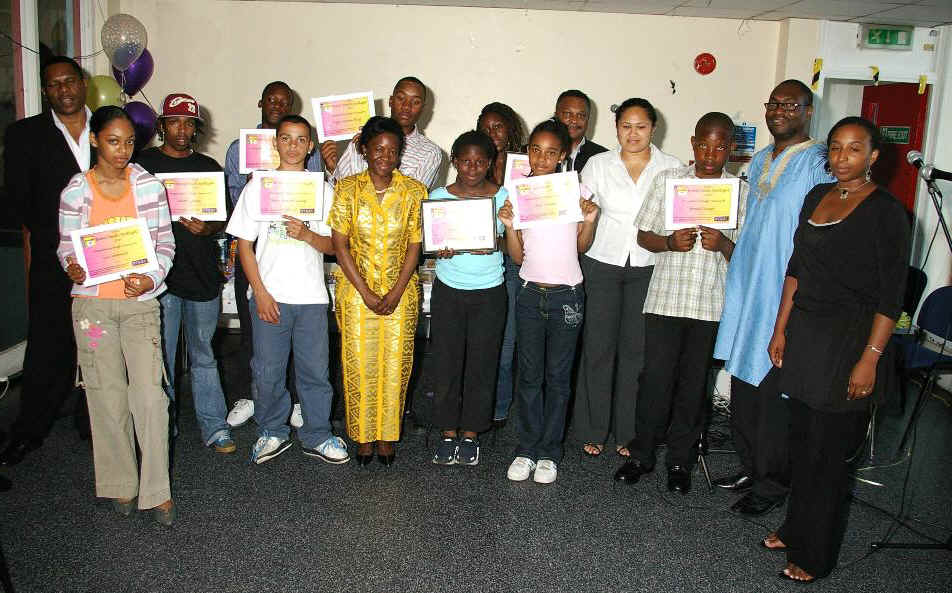 Some of the BTWSC Brent Youth Spotlight 2005 winners and short-listed nominees, and representatives of the organisers and funder. (Bridge Park Community Leisure Centre July 15 2005)
BTWSC Harrow Parents & Children End Of Project Ceremony
(Parents & children delighted at receiving their certificates and CDs. Harrow High School Saturday July 2 2005)
The Connected+ music & media industry course, which started May 26 2005 and lasts 14 weeks (Monday afternoons) is for unemployed people to empower themselves with knowledge and contacts to pursue employment or further education. This course is aimed towards tangible individual learning. Contact BTWSC immediately, if you've got some ideas about what you want to do within the music industry, but need professional guidance: 020 8450 5987 or info@btwsc.com.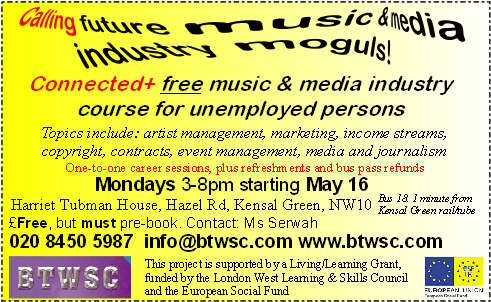 The Brent Youth Spotlight 2005 is open for nominations, which should be received by June 30 2005. Click for BYS 2005 background or BYS 2005 nomination form. Recognition ceremony is July 15. Guest of honour is BBC Mastermind 2004 winner and barrister Shaun Wallace.
We've got a free after-school edu-tainment (writing, singing, recording, DJing, etc) project for Harrow youths aged 14-17 years over the next few fridays, starting with an open evening on June 18 2005, 4-7pm at Bernay's Hall, Stanmore. To book, call or email Ms Serwah, 020 8450 5987 or info@btwsc.com.
We've also got a free after-school edu-tainment summer project for Brent youths aged 13-17 years, July 22 to September 9 2005, 4-7pm at Hazel Road Community Centre, Kensal Green. To book, call or email Ms Serwah, 020 8450 5987 or info@btwsc.com.
BTWSC's extension of Dads & Lads, known as Parents & Children, is a great way of BME parents and their children aged up to 13 years old to learn and communicate. The Harrow Family Learning Unit funded project takes place on Saturdays, 4-7pm in Benay's Hall, Stanmore. The last session on July 2 2005, includes a presentation and celebration 2-5pm - you're invited!
BTWSC in association with Black Music Congress will be celebrating Black History Month in Harrow by having a film show & discussion in line with the resistance and resilience theme in the Civic Centre on Saturday October 14, 6-9pm.
__________________________________________________________________________
STOP PRESS: FEEDBACK HAS BEEN SO GOOD, WE ARE REPEATING ONE DAY MUSIC BUSINESS COURSE & LIVE SHOWCASE (SPECIAL GUEST: SLIM DUTTY!). Following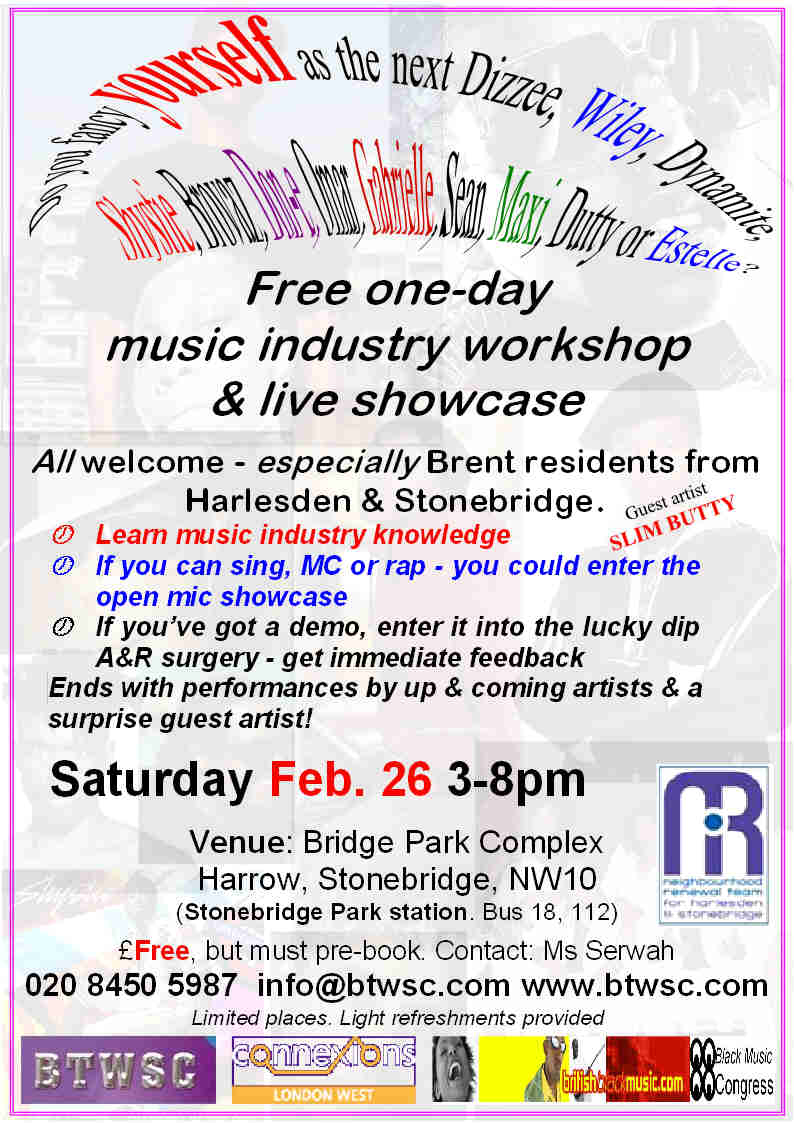 on from the successful introduction of course & showcase in Forest Gate last November and Harrow In January, BTWSC is running another free, one-day music industry workshop & performance session on Saturday Feb. 26, 3-8pm at the Bridge Park Complex, Brentfield (Harrow Road), NW10 (Bus 18, 112. Stonebridge Park tube/BR station). Workshops are run by industry professionals, such as managers, lawyers, journalists, producers, promoters, plus there will also be an A&R surgery, if we get enough demos - so bring your demo tapes/CDs. Performances by participants, up & coming artists and special guest! It's for anyone, especially those from Harlesden & Stonebridge, although participants from different areas are welcome! Call Ms Serwah to book a place on 020 8450 5987 or email: info@btwsc.com.
Our partner in this Neighbourhood Renewal For Harlesden & Stonebridge Community Chest funded is North West Saturday School, which is organising the Kwame Nkrumah Memorial Lecture 2005 on Saturday Feb. 19, 6.45pm.
Kwame Nkrumah Memorial Lecture 2005
Come and listen to the words of the great Ghanaian pan-Africanist read by North West Saturday School headmaster Alexander Boadi come alive, and see the School children role play key moments in Ghana঩st president଩fe.
Special guest: Samia Nkrumah (daughter of Kwame Nkrumah)
Saturday February 2005, 6.45pm
Free entry, but donations welcome. There will be displays, book sale, and raffle to raise money for one of Brent튠 leading supplementary schools.
Capital City Academy, Doyle Gardens, Willesden Green, London NW10 3ST (near to Willesden Sports Centre). Buses 206, 226.
Alex Boadi
North West Saturday School headmaster
07946 302 342/07956 258 512
BTWSC is promoting K B Asante's 'Voice From Afar' book. Click more information.
ⰰ2-2006 BTWSC