In line with Harrow Black History Month Forum's 2006 highlighting of black scientists and inventors, pan-London voluntary organisation BTWSC honoured renowned Ghanaian scientist and mathematician Prof. Francis KA Allotey with the BTWSC Black S/Heroes Award 2006 for his contribution to the sciences. The Allotey Formalism, a technique used to determine matter in outer space, is named after him.
The award was presented by Harrow Labour Group leader Cllr Navin Shah at the 'N-Word & Insidious Racism Debate', which took place in the Council Chamber last Saturday (Oct. 14), to Prof. Allotey's wife Asie Allotey, whose alma mater in Ghana will also be a recipient of the prize in her husband's honour.
I would like to express my sincere thanks to BTWSC for putting the issue of the N word, and indeed racial prejudice and discrimination, on the top of the agenda," said Cllr Shah.. "We must remain united and fight all forms of prejudice – the fight against racism must go on, and so too the celebration of Black history Month in Harrow.
"May I also congratulate BTWSC for selecting Professor Francis Allotey for an award for his achievement in the field of science and to someone who is truly a global person.
"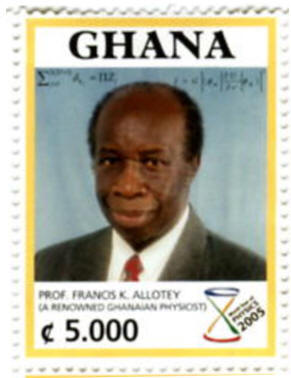 "Professsor Allotey has lifted the flag of Ghana and Africans, and it is apt to recognise him during Black History Month, especially as Harrow BHM is highlighting Black scientists," added BTWSC co-ordinator Ms Serwah.
Also, as a member of Harrow's Promoting Achievement group, which this year is focussing on raising academic achievement of African/ African Caribbean students, BTWSC has established the BTWSC Professor Allotey Science Prize for the best first year secondary school science student of African descent in Harrow.
"BTWSC believes that role models like Professor Allotey, who established the principle widely known as the Allotey Formalism, will encourage young people to achieve in the sciences," continued Ms serwah.
Former Ghanaian education secretary and High Commissioner to the UK Mr. KB Asante said: "Professsor Allotey has exploded the myth that Africans cannot achieve the highest in the mathematical and physical sciences, and should be satisfied with achievement in sports and entertainment."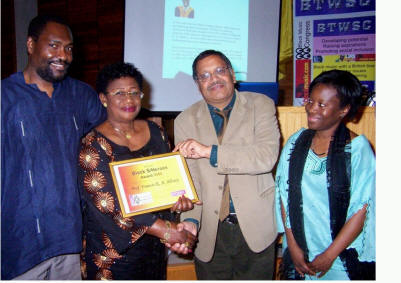 ENDS
Ms Serwah
BTWSC co-ordinator
020 8450 5987
Editor's notes
The name of the organisation is BTWSC, it's taken from the initials of a writing competition in which the youth were asked to write without use of swear words

The organisation's co-ordinator is known simply as Ms Serwah (if your housestyle does not allow this, then please use 'spokeswoman')
Photo L-R: BTWSC chair Kwaku, Mrs Asie Allotey, Cllr Shah, BTWSC co-ordinator Ms serwah