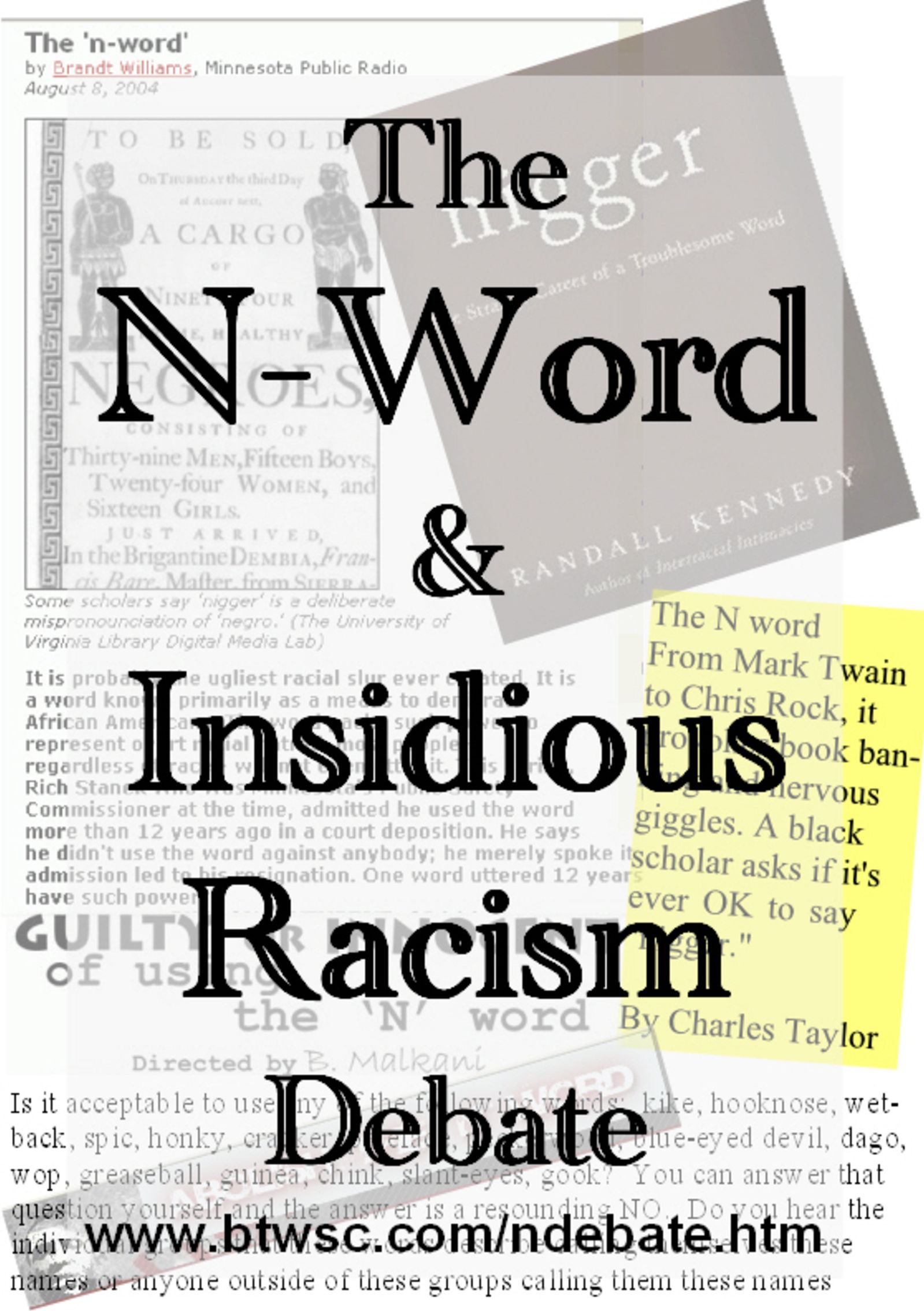 The N-Word & Insidious Racism Debate is focused on examining the use of the N-word in and outside of black and hip-hop culture, and the effects of insidious racism.

The debate is preceded by the screening of the short documentary:

'Guilty Or Innocent Of Using the N Word?'
Directed by Bhavna Malkani
"I would definitely recommend you see this film…"
Geoff Schumann, BBC London
"Malkani's documentary will change the way people view this topic forever…" Grouchy Greg, CEO of Allhiphop.com
Guilty or Innocent of using the 'N' Word explores questions and issues around the derogatory 'N' word that many feel shy to discuss as it's often categorised as a taboo subject area. The twenty-eight minute documentary breaks down the word chronologically from the history of the word (nigger) all the way up to Hip-Hop's influence on the acceptance and commercialization (nigga).
The documentary was filmed in the beginning of 2005- around New York City, Philadelphia, Delaware and London and was completed in the later part of 2005/beginning of 2006.
Guest appearances in the documentary include M1 (Dead Prez), Grouchy Greg, CEO of Allhiphop.com, The Last Emperor, up and coming rapper Marchitect and many others.
The film is broken down into five chapters, which include the following:
Chapter One- Where did Nigger come from?
Chapter Two- Nigger- The Experiences
Chapter Three- Definition of Nigga
Chapter Four- Nigga in Hip-hop
Chapter Five- -Who is Allowed to use Nigga?
Date: Saturday October 14 2006, 6-8.30pm
Venue: Council Chamber, Harrow Civic Centre, Station Road, Harrow, Middlesex, HA1 2XF (Five minutes walk from Harrow & Wealdstone station or 5 minute ride on buses 140, 182, 258, 340 from Harrow On The Hill station)
£Free. To book: email info@btwsc.com subject line: Booking N Word Debate
As part of its Black History Month programme, BTWSC and BritishBlackMusic.com/Black Music Congress, are organising a debate which puts the use of the N-word within a historical context, by examining its beginnings in 17th century America and questioning the appropriateness of its use in England in the 21st century.
Whilst institutional racism has gained currency of late, this debate will also examine the effects of insidious racism.
The event kicks off with the screening of 'Guilty Or Innocent Of Using The N Word', a documentary on the use of the N-word among the hip-hop community.
Although BTWSC and BBM/BMC are promoting this as an inter-generational event, and have a zero-tolerance for swearing, parents will have to make a decision regarding bringing their children.
Youths aged 13-17 are welcome to enter the N-Word competition. All short-listed entrants and their parents/guardians will be invited to an award ceremony which will precede the debate.